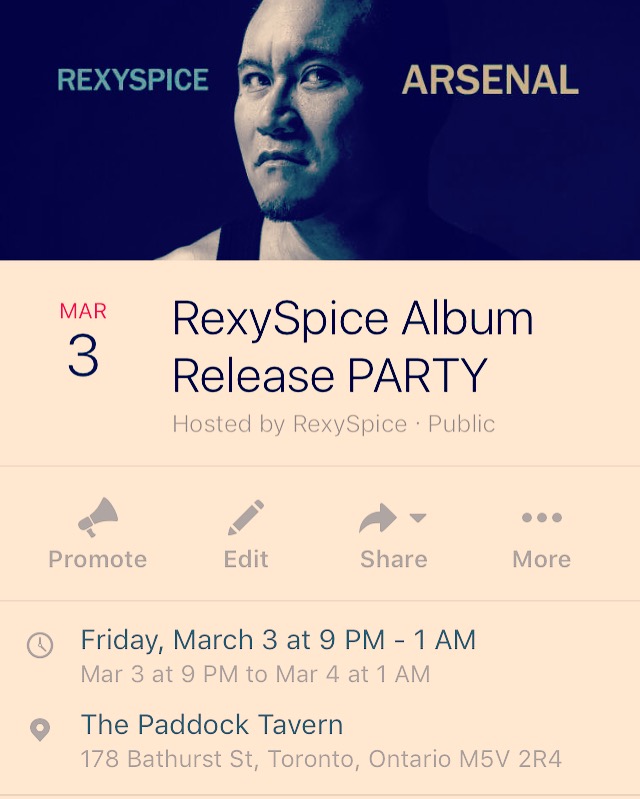 The launch party is (back) ON and set for FRIDAY, MARCH 3RD* at the PADDOCK TAVERN* in Toronto (178 Bathurst Street, SW corner of Queen and Bathurst). Kick-off time is 9pm!
For the first time I'll be doing a full set with FULL BAND to celebrate the release of my album, ARSENAL, which I've been prattling about during its creation over the last 12-18 months. (By the way, that album is now available for pre-order on iTunes as well as bandcamp.)
Local solo punk icon T.C. Folkpunk will be opening the night, followed by a set by Terrible And The Horribles, who will proceed to then back me up for my own set of in-your-face tunes from my album. I'm hoping that the oh-so-versatile Myke Mazzei will join us onstage during my set, for at least a few tunes. He's a way better soloist than I am and such a sweet harmonist among other talents (such as producing the album being played/celebrated). ♥
Stick around after my set to indulge in the sweet dance/punk sounds of local DJ DKTO, and mingle with some beautiful people.
*(This concert had been previously announced for the day after at Touche, who have temporarily closed while undergoing renovation. I remain on excellent terms with them and do hope to set up a full concert there as well, later in the year. Much love to Rich, Jay, Gunilla, Roberto and crew.)
This has been a long time coming. Save the date and see you at The Paddock on Mar. 3!