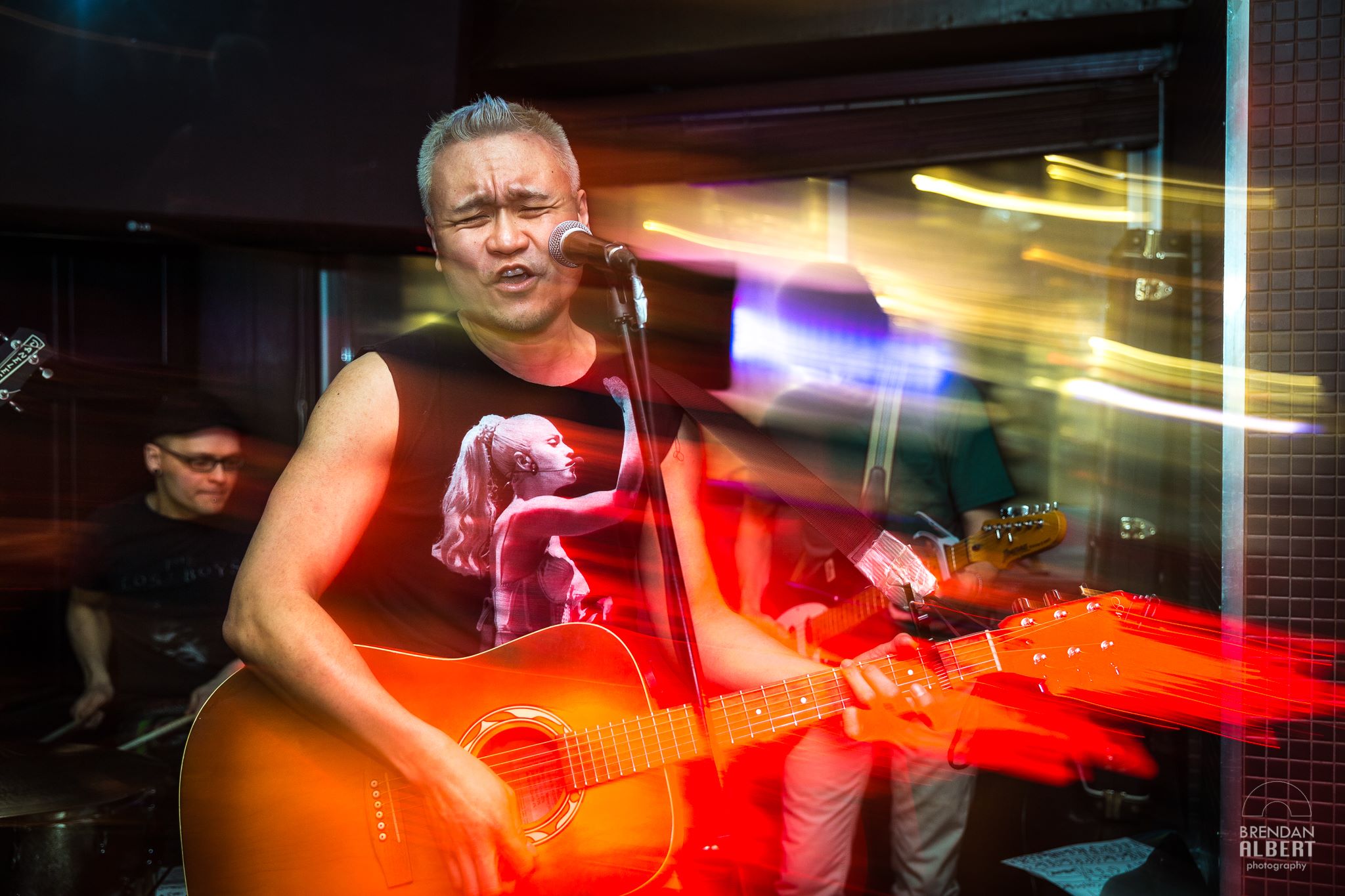 photo by Brendan Albert
Well, the Arsenal album release party went off without a hitch, and I couldn't be happier.
Go HERE to check out Brendan Albert's fantastic photographic document of last Friday's launch concert. A link to this external photo album will also be placed on my photos page for posterity.
Also, this just in: bootleg video of my set has also been located… watch this space. 😉
Much thanks abound again to Nico from The Paddock for having us, and to my fantastic, killer co-conspirators onstage: Edie Wilson and Greg Kowalczyk (Terrible & The Horribles), T.C. Folkpunk, Myke Mazzei, and DKTO. Thanks also to my door peeps Lisa, Jaclyn and Brandon. And of course to everyone who came out and partied with all of us. A subdued coffeehouse gig this was NOT… thank Gawd! 😛
I have to admit, as the album release date approached, I was overcome with a sense of anxious dread. I was bracing for the worst. Would anyone actually show up to the launch? In the wake of an extremely lucky, last-minute booking (due to unforeseen circumstandes with the original venue), would something happen to compel the new venue to also pull the plug, at the last minute — days, or even hours before the show? Would another van carrying another band member and his/her gear end up in another sinkhole? (This actually happened during rehearsals.) Was everything I was doing simply an exercise in futility? Does anyone actually give a shit about this thing I'm calling Arsenal? Throw in some of the pre-existing angst that inspired the kinds of songs that you hear on the record, and I was basically a neurotic, emotional wreck in the weeks (and really, in the months) leading up to this–yes, even MORE so. 😛
But as the night went on, it was clear that such fears were unfounded. The staff at The Paddock couldn't have been more accommodating, and the place was packed with a crowd that couldn't have been more respectfully boisterous, nor more diverse. And as the 'Arsenal' album birthed its way into the world over the weekend, that nagging feeling of irrational futility became replaced with a sense of vindication. No matter how many dismissive self-styled "industry" aspirationalists backhand their compliments and/or give me the brush-off, there IS a point to my art, and people ARE listening. I have a lot of shit to say, and I've got a purpose to this life — and I may not be a fucking capitalist, but that doesn't mean what I'm doing isn't fucking essential to me. It's not a fucking hobby, it's who I fucking am. I do have an 'arsenal' of soldiers in solidarity with me, who encourage me to stay on the trenches and fight the good fucking fight, every fucking day; and to swear as fucking much as I fucking want to. And goddamit, I'm going to.
I can't say too much more without becoming cheezy as hell and ending up all Sally Field on everyone… so I'll just say, thanks. Thank you. I'm heartened. Lightened, literally and figuratively. And inspired. Much love to you, all. I LOVE YOU ALL ❤️️♥
P.S. by the way, you're all part of the RexySpice #Militia now. #KatyCats and #LittleMonsters were taken. 😜 😛